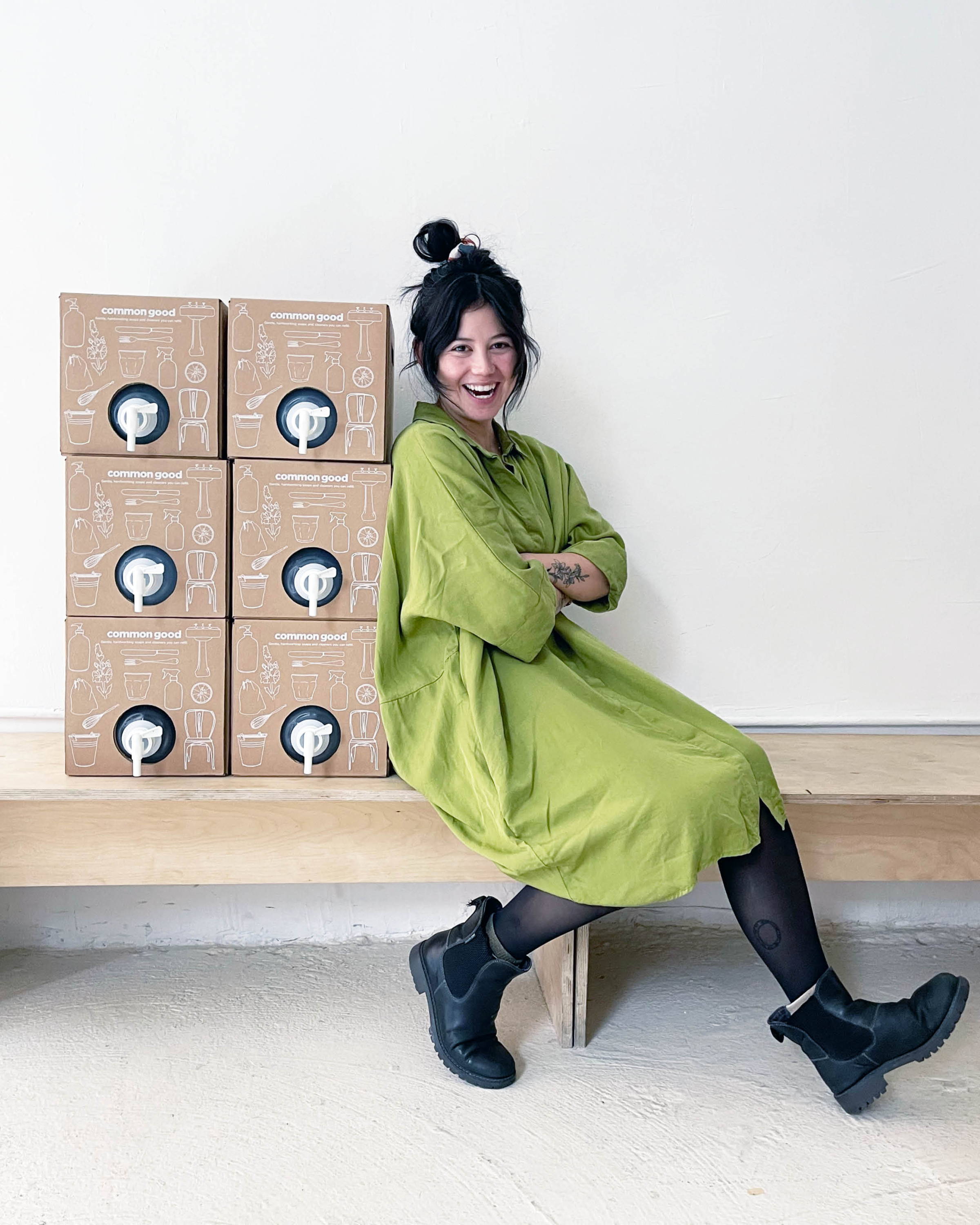 Party Resources Spring/Summer 2023
Here are some of the things we've learned about selling Common Good products over the last 10 years:
- Recipe cards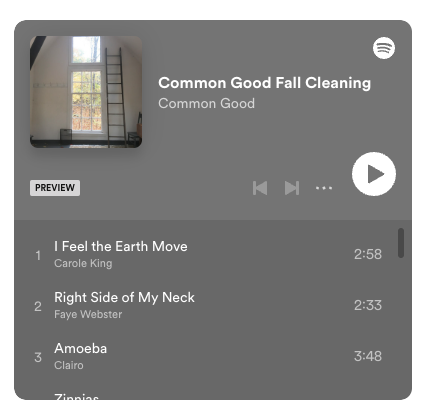 Here are some of the things we've learned about selling Common Good products over the last 10 years:
- Be your natural, charming self. You don't need to hard sell anyone.
- Don't assume people know much about sustainability.
- People are often motivated by personal safety first.
- New parents and homeowners are open to trying something new.
- Keep it short and sweet.
- Showing and feeling are better than telling.
- Know the facts.
Outreach Tips
1. Send an email - Use our intro email to share product and environmental information with your network. We've provided some email templates below, or say it in your own words!
2.
Social media -
Social media is a powerful tool to build your network. As a member, use your unique coupon to share with your customers.
3.
Host an event -
Throwing a party is a great way to share information about reducing single-use-plastic packaging. We've got some helpful info below on how to put together a great event!
4. Build community - Think about neighborhood businesses and non-profits who want to reduce single-use plastics. Or consider those in your circle that would benefit from Common Good products.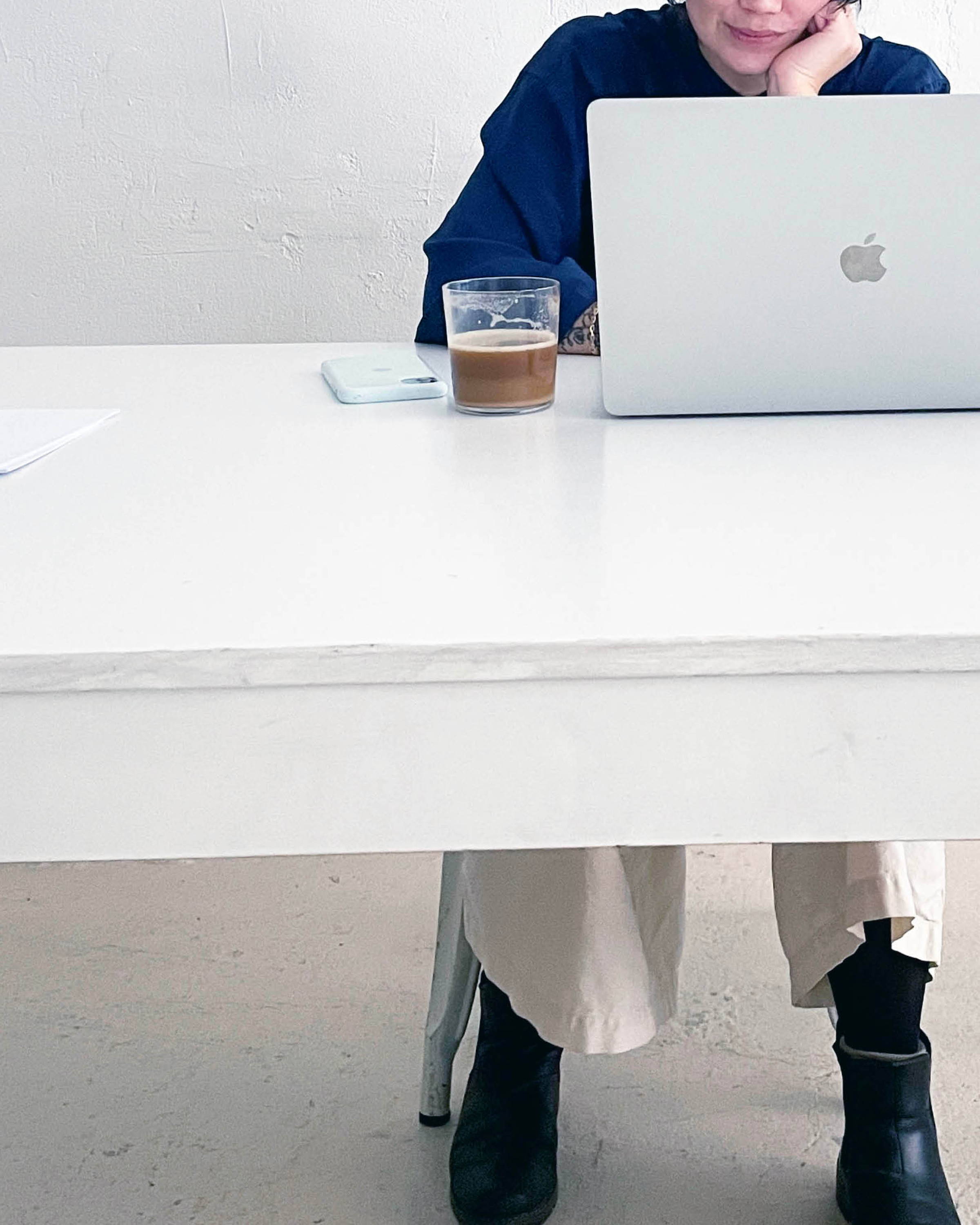 Here are some helpful resources for things like pricing, ordering, setting up a refill station, and more!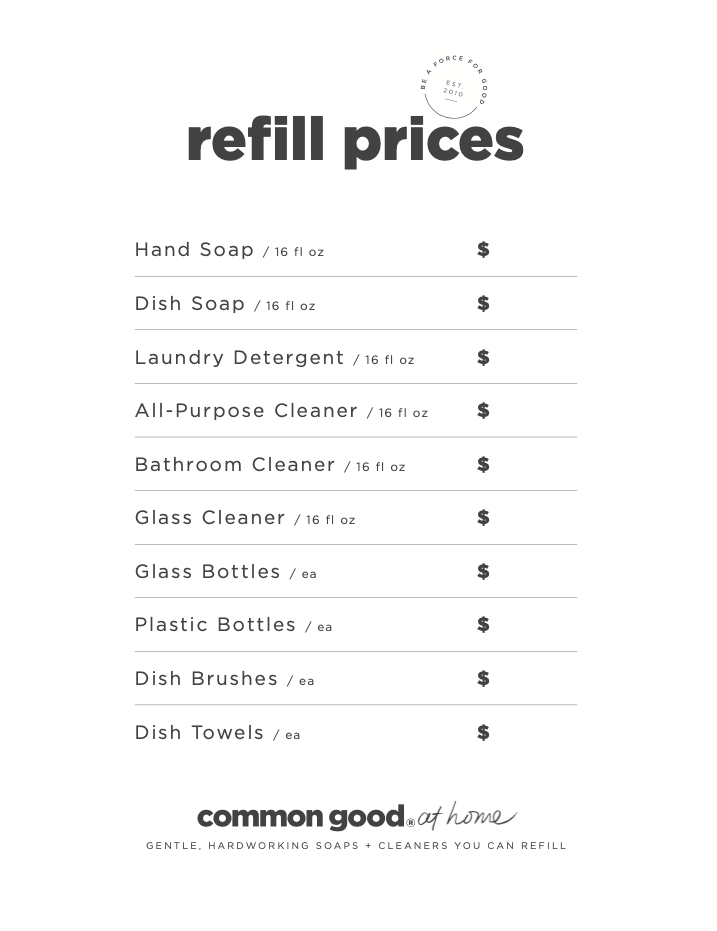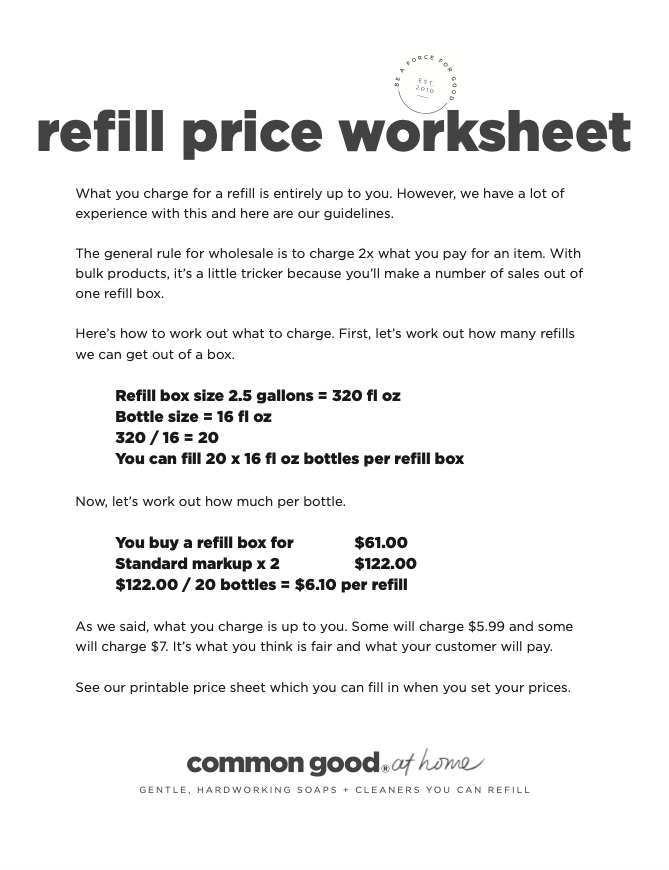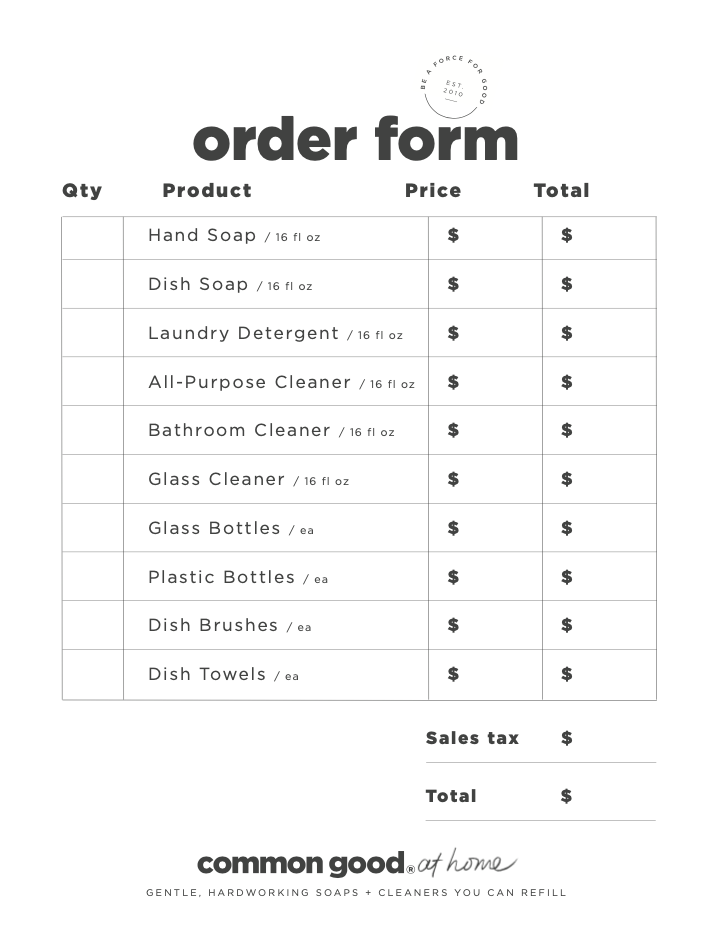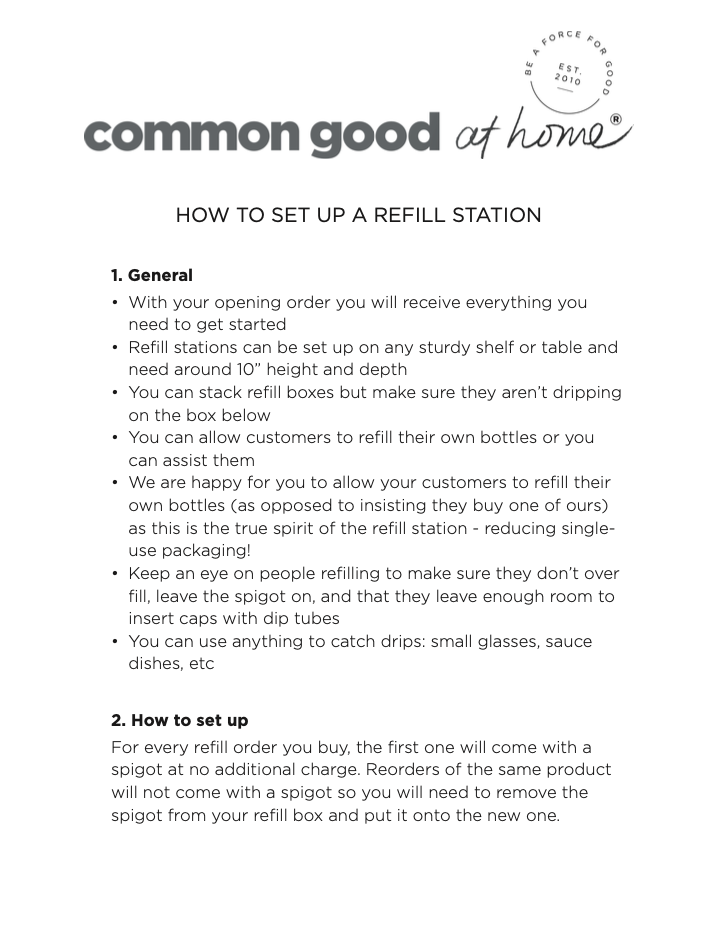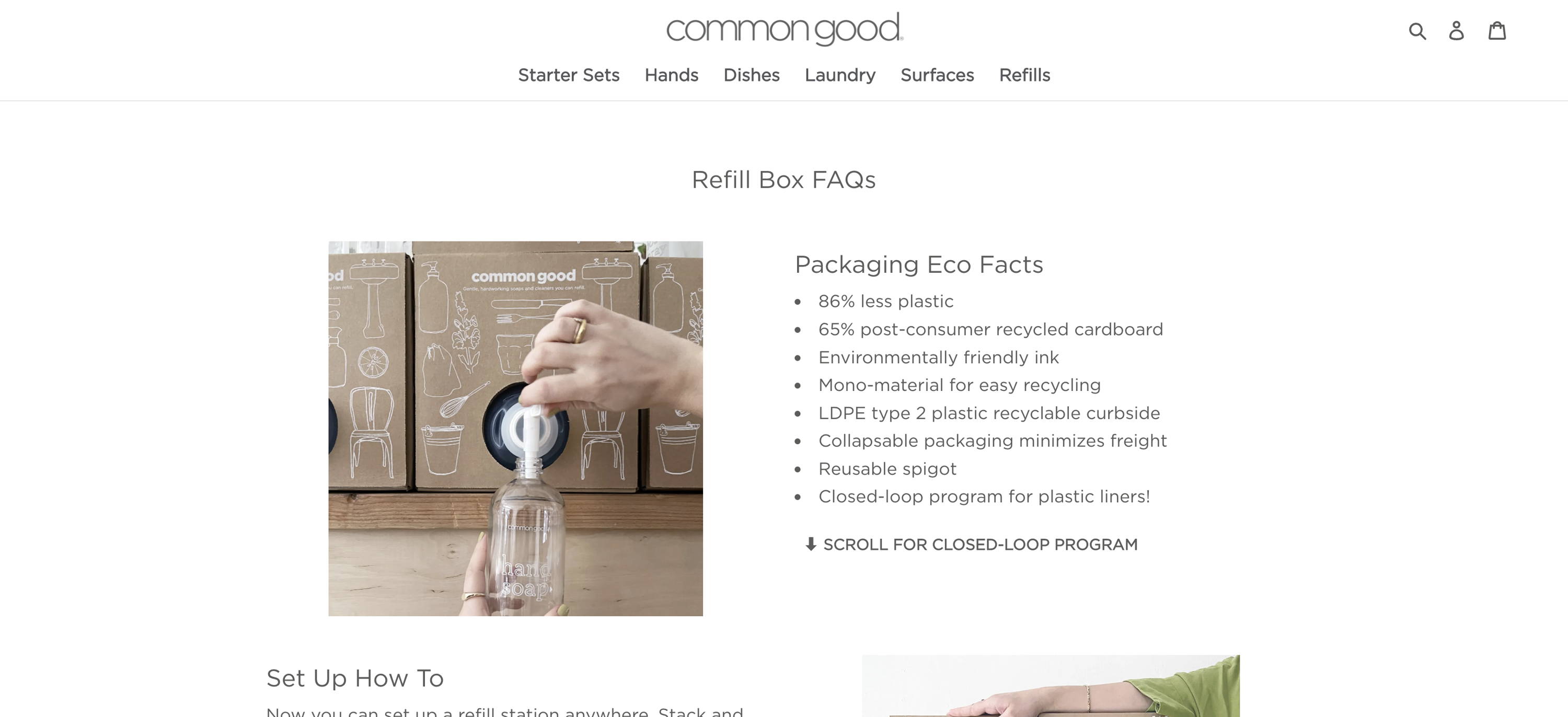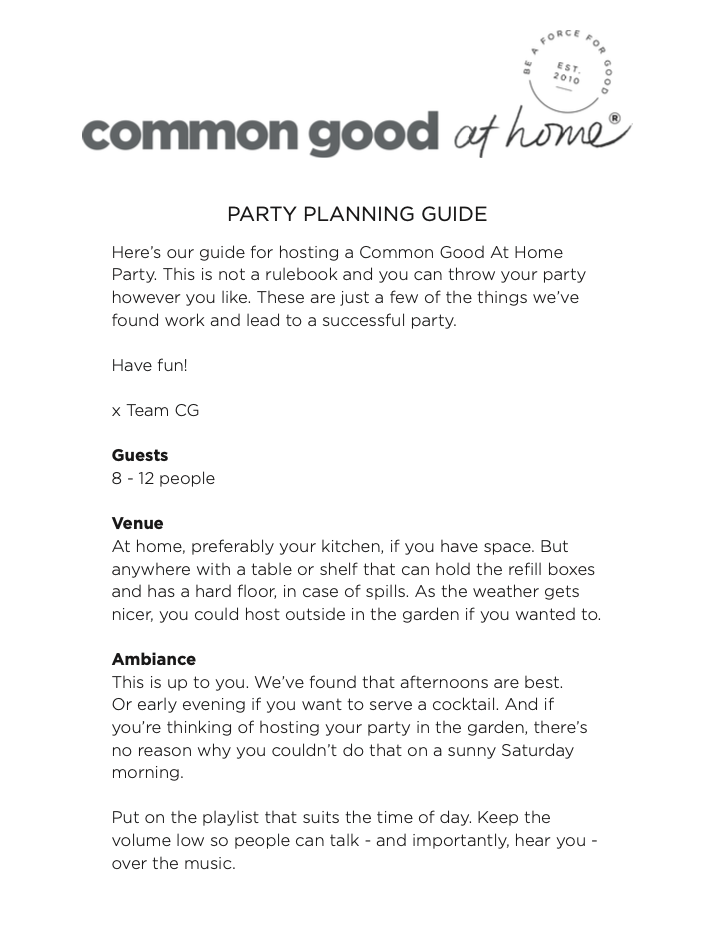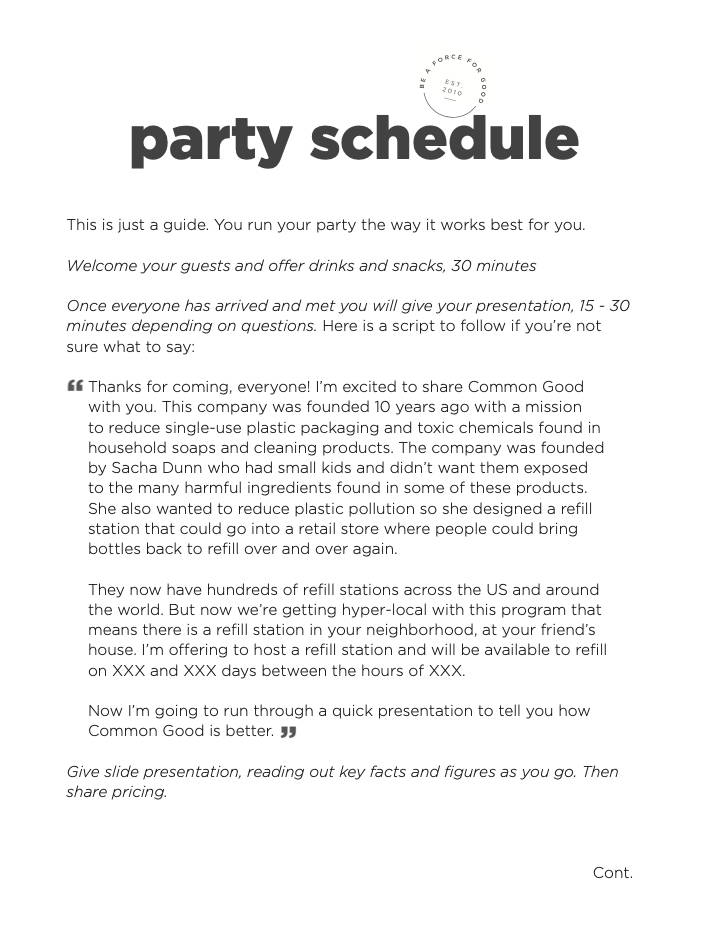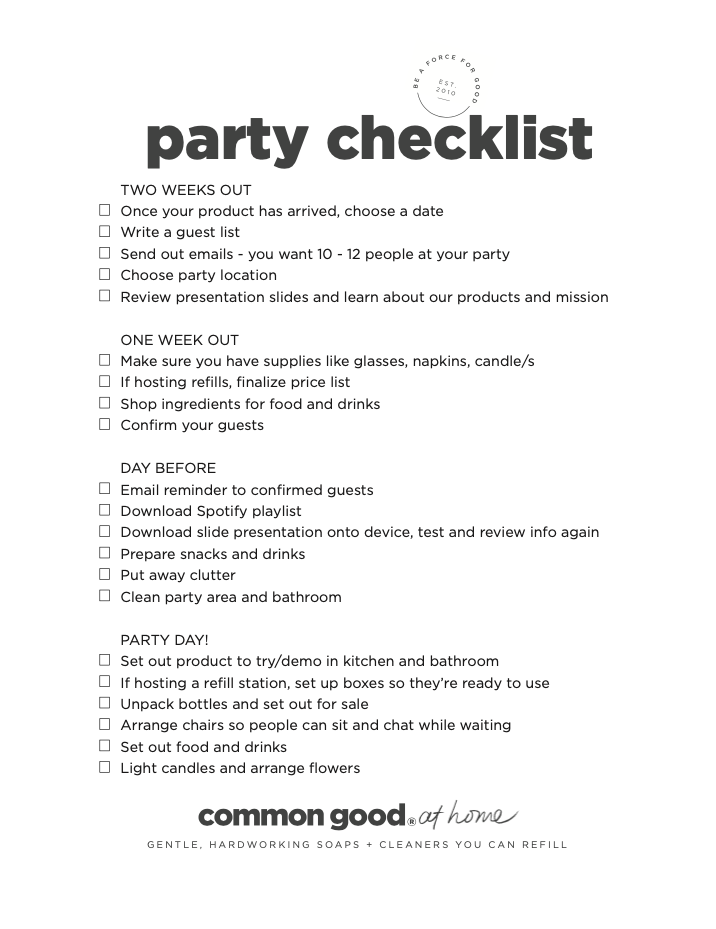 Here are some more helpful tools:
FREQUENTLY ASKED QUESTIONS
THE PROGRAM AND HOW TO APPLY
What is Common Good At Home?

Common Good At Home is a business-in-a-box program we developed to share our experience with people who want to start their own refill station business. There's a full explanation at the top of this page.

When will I hear back about my application?

Give us a few days to review your application and get back to you.

Why are you asking where I live?
We need to make sure we don't put two refill stations in the same location. Since we have other At Homepreneurs in addition to traditional retail partners, we want to ensure everyone has adequate territory to succeed.
Do I have to use Common Good products to join the program?
You don't have to be an existing customer to join. But we hope once you try the products, you'll love them so much you won't use anything else ;)
How much time does the program take?

That's for you to decide! Maybe you only want to open for refills on Saturday mornings, or perhaps you want to operate 5 days a week and offer a refill delivery service to local businesses. How much energy you put in will impact how much money you earn but there is no restriction on our side as to how much time you spend.

The all-in cost depends on which products you order but we give you a 40% discount and shipping is free if you spend a minimum of $200/order. Check out our starter sets above to get a feel for pricing.

Before we can legally sell to you without charging you sales tax, we need your sales tax authorization number or certificate (or EIN). See the "TAXES" section below for info on how get that.

Why can't I purchase my refill station product yet?

Before you can place your first order, you need to send us your sales tax authorization number. Many states will give you this number immediately, but if you have to wait for them to mail you the certification, it shouldn't take more than a couple of weeks. Either way, we require the number before being able to sell you any product.

How do I set up a refill station?

Each refill box measures 10 x 10 x 10 inches. They can stack but you want to be careful they aren't dripping onto the box below because it'll look messy. Each box weighs around 22 lbs so if you're putting a lot of them onto a surface, make sure it's sturdy enough to handle that weight. You may want to put something under the faucet to catch any drips.

Detailed directions on how to set up a refill station are sent to members when they're approved.
You'll receive a link to the At Home wholesale portal when your application is approved.

When will my order arrive?

We usually ship orders out in 1 - 2 days and carriers can take 1 - 7 days, depending on shipping location.

How much does shipping cost?

Shipping is free with an order spend of $200 or more (which can easily be reached with the purchase of a refill station set). Otherwise, the cost is calculated on an order-by-order basis according to the actual shipping rate from our warehouse to your address.

How can I pay for my refill station?

We accept credit and debit cards through our website.

How do I order more product?

Once you have provided your resale certificate to us, we'll give you access to the tax-free section of our site where you can order inventory whenever you need it.
I haven't received my resale certificate yet, can I still place an order?

You can but you will have to pay sales tax on that product. Most states take around a week to process a new authorization to collect sales tax. If you are having problems, reach out and we will try to help.

How do I collect payments?

You can accept any method of payment you choose. We find that Stripe, CashApp, and Venmo are popular ways to collect payments.
How much money will I earn?
Your earnings will be the net profit between what you paid us for the products and what you in turn sell them for. But ultimately, how much you make depends entirely on you!
By following the retail rule of thumb, mark up the products to around our MSRP (manufacturer's suggested retail price). You don't have to charge those amounts but use them as a guide.
Common Good At Home members receive 40% off and free shipping with an order spend of $200 or more.
Do my customers get discounts?
That's up to you. You can offer discounts for things like special events or new customers. We give you some advice on setting pricing in our member's guide.
The short answer is: probably.
Stripe has a great service
that shows which states require sales tax collection (most of them do). Select your state to get information and contact links for registering your business and/or to collect sales tax.
Once registered to collect sales tax, you should receive a resale certificate (also known as a sales tax license). You need to send that to Common Good in order for us to sell to you without charging you sales tax.
Do I have to collect sales tax?

Most likely. Every county is different, which is why we strongly recommend using a service like Stripe from the beginning. But it is your responsibility to comply with all state laws concerning taxes.

Do I have to pay tax on the income I make?

We strongly recommend you discuss this question with your accountant. There is a minimum earning that doesn't need to be reported but we think you'll probably make enough to require filing and paying income tax. An accountant will be able to help you understand what you need to do and help you claim expenses.

We will issue you a 1099 federal tax form which will show any commission or bonuses we've paid you for the previous year. There is a minimum income you need to make before you are required to file taxes. We suggest you get advice on how to file, especially if your Common Good At Home earnings are in addition to other income you're making. Again, we strongly recommend you get tax advice from a certified practicing accountant. Everyone's situation is different and we are not in a position to give individual advice on taxes.

Do I need to register a business?

Many states require you to register as a business to collect sales tax. It's often rolled into the same thing. It's simple and you don't need to come up with a name or file trademarks or anything, you can register as a sole proprietor under your name.

Can I claim any deductions?

Another great question for your tax advisor! The simple answer is yes, you can usually claim deductions for any expenses incurred running your business and generating income. Lots of expenses can be deductible like the food or flowers you buy for your Common Good At Home party, some of the cost of your phone service if you're calling prospective customers, a portion of space if you're hosting a refill station. Unless you're very savvy with income taxes and deductions, this is something worth getting help on. Use one of the online tax services like TaxJar, TurboTax, or Quickbooks or your tax return preparer/accountant.

I'm confused, is there someone I can talk to about getting started?

How can I get more involved?

We're just getting started with Common Good At Home but our plan is to grow a supportive network that can help new members navigate the programs and make their small businesses successful. To reach everyone, we're going to need help. If you're interested in being a founding Common Good At Home advisor, let us know at athome@cgco.co.